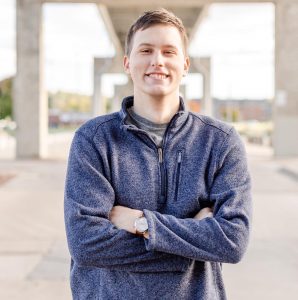 Name: Trent Moritz
Research areas of interest: Microwave and millimeter wave nondestructive testing and material characterization.
Anticipated graduation date: Spring 2026
Who or what inspired you to pursue studies in NDE? While taking Electromagnetics with Dr. Mani Mina, he told me about CNDE (which up to that point, I did not know existed) and that they were looking for undergraduate students to work in their labs.  After hearing a brief description of what they do, I found it interesting and asked Dr. Reza Zoughi if they were still looking for students.  Fortunately they were and very quickly after joining as an undergraduate research assistant in their labs, I found that I really enjoyed NDE and all the pieces that go into it. While there are many things along the way that led to me pursuing a PhD in NDE, it was mainly the people (Dr. Mina and everyone I have worked with at CNDE) that got me interested in the field and made me want to stick around.
One thing I have learned that surprised me: The biggest thing that surprised me is how little I knew in terms of practical knowledge in NDE coming out of my undergrad. I knew there was going to be somewhat of a learning curve, but I thought with my theory from courses I would be able to quickly figure things out. This was not the case. I have enjoyed the process of learning how to perform NDE and it is something I am still doing to this day.
Future career plans:  I would like to stay in the NDE field, but I am not sure where that will be.
Trent is the first CNDE-GRA recipient and also the recipient of the O.D. & O.U. Trapp Graduate Fellowship in CNDE.