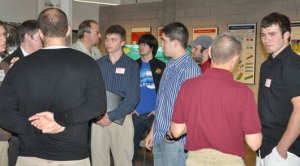 Industry Forum for the NDE Minor
The Center for NDE mission includes research and education programs. There are typically over 50 students that are part of CNDE's programs, either as participants in the NDE courses offered at ISU or as contributing researchers either at the undergraduate or graduate level. The following education options are available:
Undergraduate Minor in NDE – a multi-disciplinary qualification available to engineering students at ISU for which 16 credits are required. Students take courses that cover the principles of NDE. An associated lab provides hands-on opportunities for the most often used inspection methods including penetrant, magnetic particle, ultrasonics, eddy current, x-ray, and thermal methods. Many students also do an independent study with CNDE researchers.
Graduate Certificate in NDE – a 13-credit certificate option available to engineering students or off-campus participants. The certificate is offered in conjunction with ISU's Engineering Online Learning. To receive semester email updates on course offerings, please sign up here.
Education Programs: Education and training is an important focus of the overall CNDE efforts. Iowa State University is only US institution to offer an NDE minor at the undergraduate level with 20 to 30 students typically enrolled in the program. In 2011, a graduate level certificate in NDE became available thru on-line learning, also a first in the nation offering. CNDE also has a number of specific training developments including programs for FAA Aviation Safety Inspectors and Certification Engineers and materials for use internally at companies. A major accomplishment of the CNDE programs is the NDT Resource Center, the NDE website used by over 300,000 users per month. Through this website, new educational materials with high quality graphics and interactive content have been made available to the NDT community. To raise awareness of NDT as a career field, science-based educational materials and career information were also developed for junior and senior high school students. With details at www.ndt-ed.org, the site is recognized as the resource for students, technicians and engineers.
CNDE graduates are working in a variety of industrial, government and academic settings. We welcome inquiries regarding our programs, graduates and collaborations. Please send requests to cnde@cnde.iastate.edu.