Katelyn Brinker, a Ph.D. candidate in the Electrical and Computer Engineering Department was awarded her Ph.D. degree during the December 2022 commencement ceremony.  Dr. Brinker defended her dissertation entitled "Chipless RFID Tag Design, Measurement, and Sensing for Nondestructive Evaluation (NDE) Applications" in November 2022.  Her dissertation was recently published.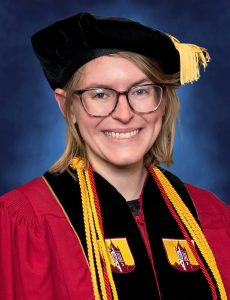 Dr. Brinker was also the recipient of the Research Excellence Award in the ECpE Department.
"The purpose of these awards is to recognize graduate students for outstanding research accomplishments as documented in their theses and dissertations. These students are also expected to be academically superior and able not only to do research, but also to develop a well written product. The intent of this program is to recognize "the best of the best" graduating students who have submitted theses and dissertations." Research Excellence Award
For the nomination package, she provided two sample works to demonstrate the creativity and impact of her research: "Application-Adaptable Chipless RFID Tag: Design Methodology, Metrics, and Measurements" and "Corner Reflector Based Misalignment-Tolerant Chipless RFID Tag Design Methodology.
Dr. Brinker has begun her career as a Senior NDE Engineer at Pratt & Whitney, currently focusing on developing eddy current inspections.