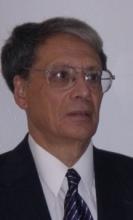 Anatoli Frishman
Lecturer Physics & Astronomy
Main Office
210 Physics Hall
Ames, IA
Phone: 515-294-9361


Education
B.S. Physics (1970 – Kharkov State University, USSR)
Ph.D. Physics & Mathematics (1977 – Institute for Low Temperature Physics & Engineering, USSR)
Interest Areas
Expertise:
Magnetism, phase transitions, elasticity & sound, low dimensional systems
Mechanical & electromagnetic properties of surface (shot peening; eddy current)
Nonlinear dynamics
Statistical physics (including numerical and computational methods)
Personal and Professional Goals:
Development of theoretical models for CNDE
Teaching physics
Selected Publications
R. Chandrasekar, A.M. Frishman, B.F. Larson, C.C.H. Lo & N. Nakagawa, Effects of Microstructure on Eddy Current Residual Stress Characterization of Shot Peened Inconel 718, JOM, 64 (2), 257-264 (2012).
Y. Shen, C. C. H. Lo, N. Nakagawa & A. M. Frishman, Residual Stress Profile Assessment by Eddy Current for Shot Peened Nickel Superalloy, Journal of Nondestructive Evaluation, 29 (1), 1-13 (2010).
A. M. Frishman, Nonlinear Modulation Response Behind the Threshold of Parametric Resonance of Spin Waves, Sov. Phys. Solid Stat. (USA) 30, 2004 (1988).