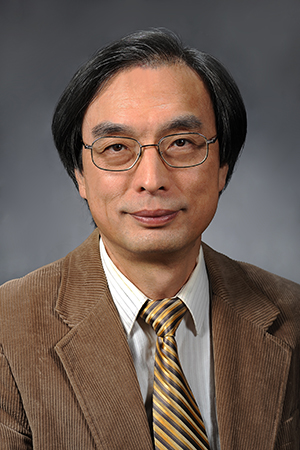 Chien-Ping (Thomas) Chiou
Associate Scientist
Adjunct Associate Professor, Aerospace Engineering
Main Office
281 Applied Sciences II
Ames, IA
Phone: 515-294-0299


Education
Dr. Chiou received his M.S. (1986) and Ph.D. (1990) degrees in Engineering Mechanics from Iowa State University, and holds a B. S. (1981) in Aerospace Engineering from National Cheng Kung University, Tainan, Taiwan.
Interest Areas
Expertise:
Simulation, inspection prototyping
signal/image processing
pattern recognition
Terahertz & Fourier-transform infrared imaging
Ultrasonics
Personal and Professional Goals:
Develop R & D in ultrasonics, terahertz, and Fourier-transform infrared NDE
Grow CNDE in extended fields such as biomed and agriculture
Research Interests:
Dr. Chiou's research expertise and interests are in the general areas of ultrasonic and terahertz NDE with applications involving computer modeling, signal and image processing, statistics and artificial intelligence. His past projects include crack detection below boltholes in aircraft skin and phased array simulation for anisotropic media. Recently, he has advanced in applying both geometric and ultrasonic models to the characterization of hard-alpha inclusions in titanium alloys. He is currently focused at material characterization using Fourier transform infrared spectroscopy, and is actively exploring new applications of terahertz techniques to NDE problems.
Brief Biography
Professional Academic Experience:
Center for Nondestructive Evaluation, Iowa State University
Associate Scientist 2002 – present
Assistant Scientist 1995 – 2002
Honors and Awards, Professional Society Memberships:
Reviewer for Journal of Nondestructive Evaluation, Ultrasonics and Journal of Testing and Evaluation Member of American Society of Nondestructive Testing Member of Sigma Xi, the national Scientific Research Society Member of national Honor Society of Phi Kappa Phi Supervisor or co-supervisor of 20+ post-doc, graduate or undergraduate students in their research work, some towards completion of Ph.D., M.S. degrees or NDE minor
Selected Publications
D. Eisenmannet al., "Ground Penetrating Radar Applied to Rebar Corrosion Inspection," in Review of Progress in Quantitative Nondestructive Evaluation (AIPconf. Proc. 1511), 2013, Vol. 32B, pp. 1341-1348. C.-P. Chiou et al., "Nondestructive Characterization of UHMWPEArmor Materials," in Review of Progress in Quantitative Nondestructive Evaluation (AIPconf. Proc. 1430), 2012, Vol. 31B, pp. 1168-1175 K-H Imet al., "Terahertz Wave Approach and Application on FRPComposites," Advances in Materials Science and Engineering, Vol. 2013, ID 563962, 2013