Eddy Current Nondestructive Evaluation (NDE)
Automated Eddy Current Pipeline CUI Inspection System
Externally applied testing solution without insulation removal
Imperfections on aluminum or stainless jacketing raise no false positive.
High sensitivity with up to 5 inch of lift-off
Machine learning based signal processing.
Alternative Current Potential Drop System
Accurate characterization of material electrical conductivity and linear magnetic permeability.
Coating thickness measurement and crack sizing.
Ultra high precision resistance measurement (rms error <20 nΩ).
Machine Learning on Edge Devices
STM32 solutions for artificial neural networks.
NVIDIA® Jetson™ and Raspberry Pi ecosystem.
Xilinx® Vitis™ AI for FPGA accelerated model inference.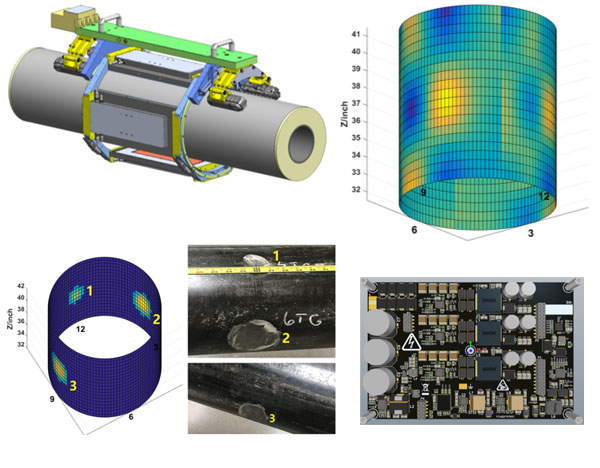 Yuan Ji
Research Scientist II
Expertise
Eddy current system design and testing.
Electromagnetic pipeline inspection.
Radio frequency, analog, digital, power and motor control circuit design.
Embedded system and machine learning FPGA acceleration.
Keywords
Eddy current NDE, ACPD NDE, Embedded System, FPGA, Machine Learning
Selected Publications & Patents
John R Bowler, Theodoros P Theodoulidis, Hui Xie, and Yuan Ji, "Evaluation of eddy-current probe signals due to cracks in fastener holes." IEEE Transactions on Magnetics, vol. 48, no. 3, pp. 1159-1170, 2011
US Patent 10816508 "Planar Array Pipeline Inspection Tool" July 18, 2019
US Patent 10031108 "Multi-Frequency Eddy Current Pipeline Inspection Apparatus and Method" July 24, 2018